Data Science in Healthcare can apply technologies like Big Data, Machine Learning, and AI to change the way data is managed, analyzed, and processed.
Healthcare is one of the most promising areas for the application of Data Science. Faced with challenges like rising costs, staff shortages, patient expectations, and stringent regulations, the healthcare industry is leveraging data science to solve many of its problems.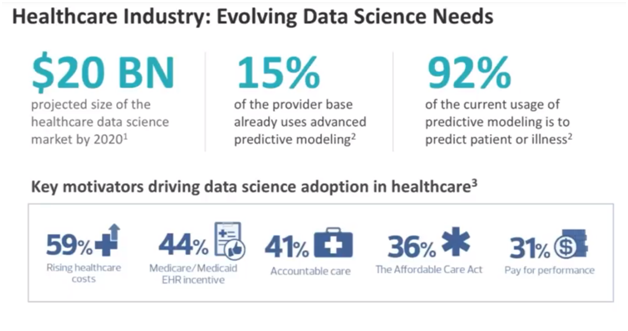 How data science empowers healthcare organizations?
 Data Science and related technologies can help healthcare organizations to-
Collect structured and unstructured data in real time from multiple sources.
Process a vast amount of data and gain actionable insights.
Build machines and software that can independently extract information from the environment, make decisions and respond to evolving scenarios.
Create virtual models to test different drugs.
Create predictive models for forecasting and predictions.
Image Source- CitiusTech
Data Science in Healthcare Use Cases
1. Staffing Management- Staffing is directly related to costs. More staff means more costs while less staff means poor patient experience and outcomes. Data Science can help you create predictive models to accurately forecast admission rates and the number of staff you would need to take care of them. AI and voice-powered virtual nursing assistants can help you expand your care capacity, without burdening existing resources.
Staffing management is a true example of demand forecasting, a predictive analytics technique in machine learning. The inherent unpredictability (to the naked eye) of hospital visits renders this to be a good use case for the machine learning and deep learning models which mine for patterns within the data, thereby giving the ability to manage staff better.
There are 3 types of forecasting systems that can be developed:
Patient workload management system: Acuity-based mapping of hospital staff,
Workforce management system: workforce tracking,
Bed management system: availability and status of beds in the hospital.
Advanced analytics can be used to combine all three of these, mine information, and make daily weekly, or monthly forecasts for all of them based on past data to make better data-driven decisions.
2. Diagnosis and Treatment- Inaccurate diagnosis can be fatal to patients. Data Science and technologies like machine learning algorithms and neural networks can be used to process a huge amount of data and create models for Symptom analysis and clinical decisions. Access to quality healthcare diagnostics and radiologists is expensive and scarce. This makes it one of the best use cases for advanced analytics and deep learning. Detecting pneumonia from lung x-rays, detecting stroke using physiological conditions, detecting the risk of other pathologies using different CT scans, etc. are prime use cases of AI in the healthcare sector.
3. Precision Medicine – A condition like cancer or heart disease isn't necessarily the same as in others. A patient's genes and environment have a big influence on how he or she will react to a particular medicine or treatment. Data Science can help you in creating different patient profiles by identifying consistent patterns in symptoms. So, rather than treat everyone with a standard drug, precision medicine can be administered to specific genetic mixes to boost outcomes.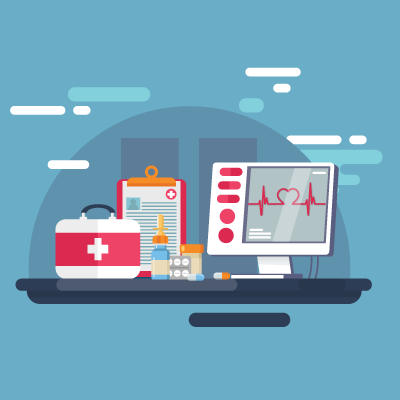 4. Research & Development- Data Science empowers researchers with tools to process and use huge amounts of data on treatment plans and recovery rates of patients. This can help them discover trends and treatments with higher success rates. Healthcare organizations can also use data in drug testing by creating virtual models and neural networks to evaluate how different drugs interact with a disease virus and find the best cure.
5. Prescription Accuracy- Errors in prescription and wrong medication can be lethal. Data Science can help improve prescription accuracy by creating self-learning tools. These tools can match a prescription with hundreds of patient cases to evaluate the accuracy of a prescription.
6. Home Care- Hospital care is resource-intensive and costly. Data Science and wearable devices with other technologies can help doctors administer care at home. Wearable devices can be used to collect patients' health data in real-time and sent it to hospitals for monitoring. Based on a patient's data, alerts can be sent to doctors to reach the patients and administer care.
7. Preventive Medicine- Prevention is not just better than cure but it also saves a lot of money, especially for healthcare insurance providers. Data can be collected on the physical activity, heart rate, sleep quality, etc., of an individual through wearables like smart bands. This data can then be run on machine learning algorithms to evaluate his/her general health and identify potential health risks to administer care at the right time. This can help boost treatment outcomes as well as cut down insurance claims.
It's just the tip of the iceberg. Data Science empowers you to collect, manage, analyze and leverage a vast amount of data to create solutions. You can use it to solve many industry-specific as well as organization-specific problems.
If you need any help with idea validation, proof-of-concept, Data Science consulting, large-scale AI implementation, Big Data Engineering, or a creative solution for your  Healthcare data. You are at the right place.

Talk to our experts