Big Data Analytics influences smart transportation by enabling the movement of the internet of Electric Vehicles (EVs) to optimize EV charging. Plug-in EVs are the next disruptive market force in transport and technology. They are connected and capable to revolutionize how energy is used, created, and redirected. Among the many connected devices, smart grids and electric vehicles are considered to be generating equally large amounts of significant big data. EVs, being the consumers and producers of big data, generate data from varied sources like sensors, trip logs, etc. Once this data is harnessed by using big data techniques, it can be used to –
– Develop policies and strategies for siting EV  charging stations

– Developing intelligent charging algorithms

– Solving energy efficiency issues

– Transform smart cities into green smart cities 
According to GEVO 2019, global electric mobility is expanding at a rapid pace. Electric vehicles worldwide crossed the 5 million mark in 2018, showing an increase of 2 million as compared to 2017. While China rules as the largest global electric vehicle market – followed by Europe and the United States- Norway remains the global leader in the electric car market share. 
With such growing adaptability of EVs across the globe, large volumes of data are generated from EVs, drivers, charging stations, and infrastructure.  Hence, harnessing this big data requires data analytic tools to retrieve intelligent and actionable insights.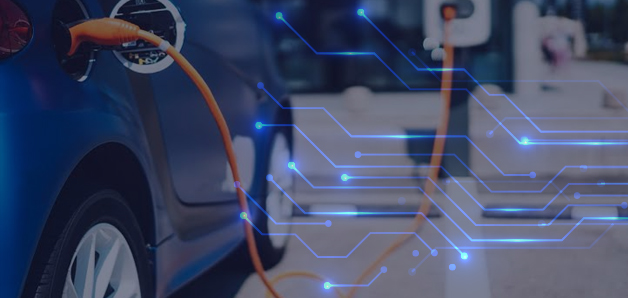 How Big Data Analytics can help?
Big Data Analytics helps integrate EVs in a wide variety of ways like optimized charging, efficient battery management, EV status tracking, etc. While convenience, cost-effectiveness, etc are important for efficient EV adoption levels, the analytics derived from the Big Data can help directly in improving these levels by providing insights on 
EV Charging Stations
Charging station selection – where the entire locality gets scanned to analyze and identify individual potential charging stations
Spread awareness among the people – by identifying the highly visible activity centers for chargers that boost maximum exposure so that it encourages people to opt for EVs. 
Right-sizing and optimization of grid load – by analyzing the number of chargers required, installation costs, the load on the grid, and the cost associated with charging.
Intelligent Algorithms
Optimized charging – models can be developed by taking into account the data on grid demand, charging station, vehicle battery, user, etc
Consumption prediction – to predict the consumption of battery and improve the accuracy of battery consumption
EVs tracking – to provide insights on vehicle speed, location, temperature, maximum voltage, etc. from the data collected through sensors.
Solving Energy Efficiency Issues
The energy efficiency of EVs can be enhanced by saving the energy accumulated within the vehicles. The potentiality of attaining energy efficiency will depend on insights from certain factors like – energy usage under braking, usage of waste heat energy, design of electric engines, dependency on solar supply, etc 
Smarter and Greener Cities
Pollution is being attributed as one of the main reasons for climate change. Hence, it becomes imperative to opt for environment-friendly solutions, like EVs. Recently, Amazon has ordered electric delivery vans from a Michigan-based startup, called Rivian, in an attempt to tackle climate change.
– Opting for EVs will reduce greenhouse gas emissions will result in improving the overall health conditions of society.

– Further reduction in these emissions is possible if the EVs can get charged on renewable energy like solar and wind.

– The metal parts used in EVs do not cause any damage to the environment even though they are not totally environment-friendly.

– Natural resources like oil fields can be preserved as EVs don't require drilling for oil.

– The innovation of electric cars with advanced technologies boosts economic growth.
Conclusion
Big Data helps in harnessing, analyzing, and leveraging huge amounts of data available from these vehicles. This can make a real difference in how easily EVs can be brought into futuristic cities.

If you need any help with idea validation, proof-of-concept, Data Science consulting, large-scale AI implementation, Big Data Engineering, or a creative solution for your EV data. You are at the right place.
Talk to our experts