Data Analytics in Banking has evolved with the wave of the digital revolution, due to which there has been tremendous growth in the dynamics of how analytics and AI can be used for improving the customer base and for optimizing costs.
Why is Analytics Important in Banking?
There's plenty of big data in every industry, especially banking and financial services. Banks are obliged to collect, analyze, and store massive amounts of data. But rather than viewing this as just a compliance exercise, machine learning and data science tools can transform this into a possibility to learn more about their clients to drive new revenue opportunities.
Top Use Cases of Data Analytics in Banking
The applications for data analytics in banking are endless. Data can be analyzed in real-time and make business decisions accordingly. Broadly, they can be segmented as below: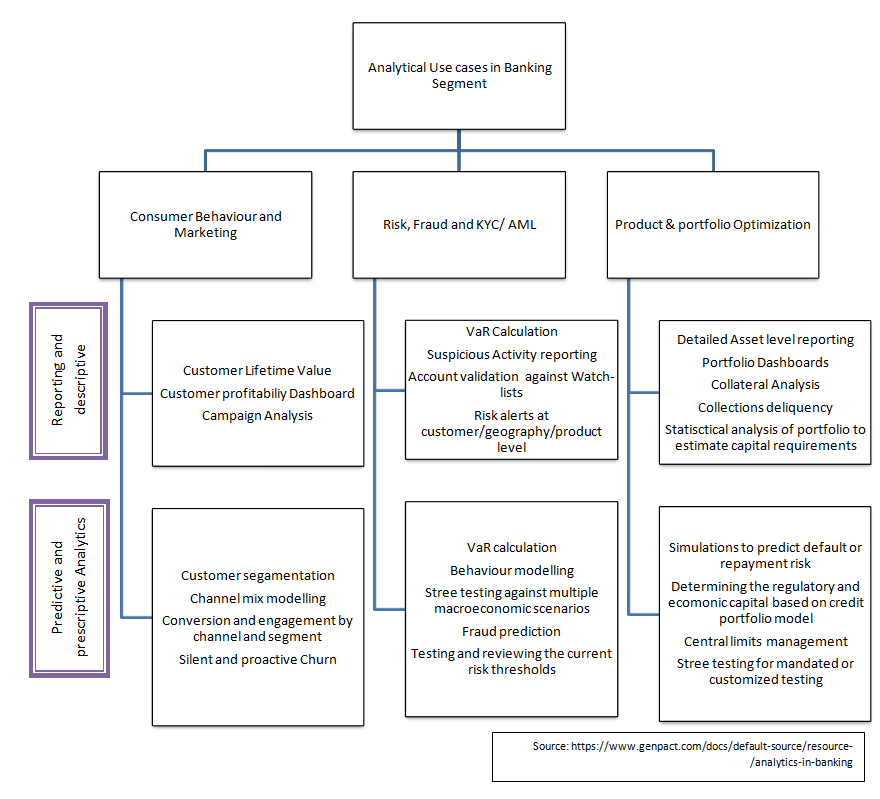 A few applications of data analytics in banking are discussed in detail:
1. Customer Segmentation
Based on a customer's historical data regarding customer spending patterns, banks can segment the customers according to their income, expenditure, risk is taken, etc. Cross-selling can be personalized based on this segmentation.
It's important to differentiate between the customers who make you money and lose you money. By understanding the profitability of certain groups of customers banks can also analyze each group and extract useful insights. To grow wallet share and create more loyal affluent customers, banks need to concentrate on selling the right product to the right customer.
2. Fraud management & prevention
Knowing the usual spending patterns of an individual helps raise a red flag if something outrageous happens. If there is a sudden increase in the expenditure of a cautious customer, this might mean the card was stolen and used by fraudsters. Analyzing these types of transactions in real time helps cut down the risk of fraudulent actions greatly.
The key steps to fraud detection include:
● Obtaining data samplings for model estimation and preliminary testing
● Model estimation
● Testing stage and deployment.

3. Risk modeling
Risk assessment is of high priority for banks, as it helps to regulate financial activities and the pricing of financial investments. The financial health of a company can be assessed for corporate financing, facilitating mergers and acquisitions, and investment purposes
Similarly screening a candidate for a loan by understanding the spending patterns and previous credit history, can help rapidly assess the risks of issuing a loan.
4. Identifying the main channels of transactions (ATM withdrawal, credit/debit card payments)
Banks can track past usage patterns and the daily coordination between the in- and out-payments at their branches and ATMs, hence predicting the future needs of their potential customers. This also leads to the optimal management of the liquid assets, resulting in extra income, and can help obtain an overview of future changes in investment and liquidity options.
5. Customer Lifetime Value (LTV)
Customer lifetime value is how long the organizations can retain their customers. Identifying who the best customers are, making them better in different ways, and once you win them over, securing their loyalty, are a few areas that banks are focusing on.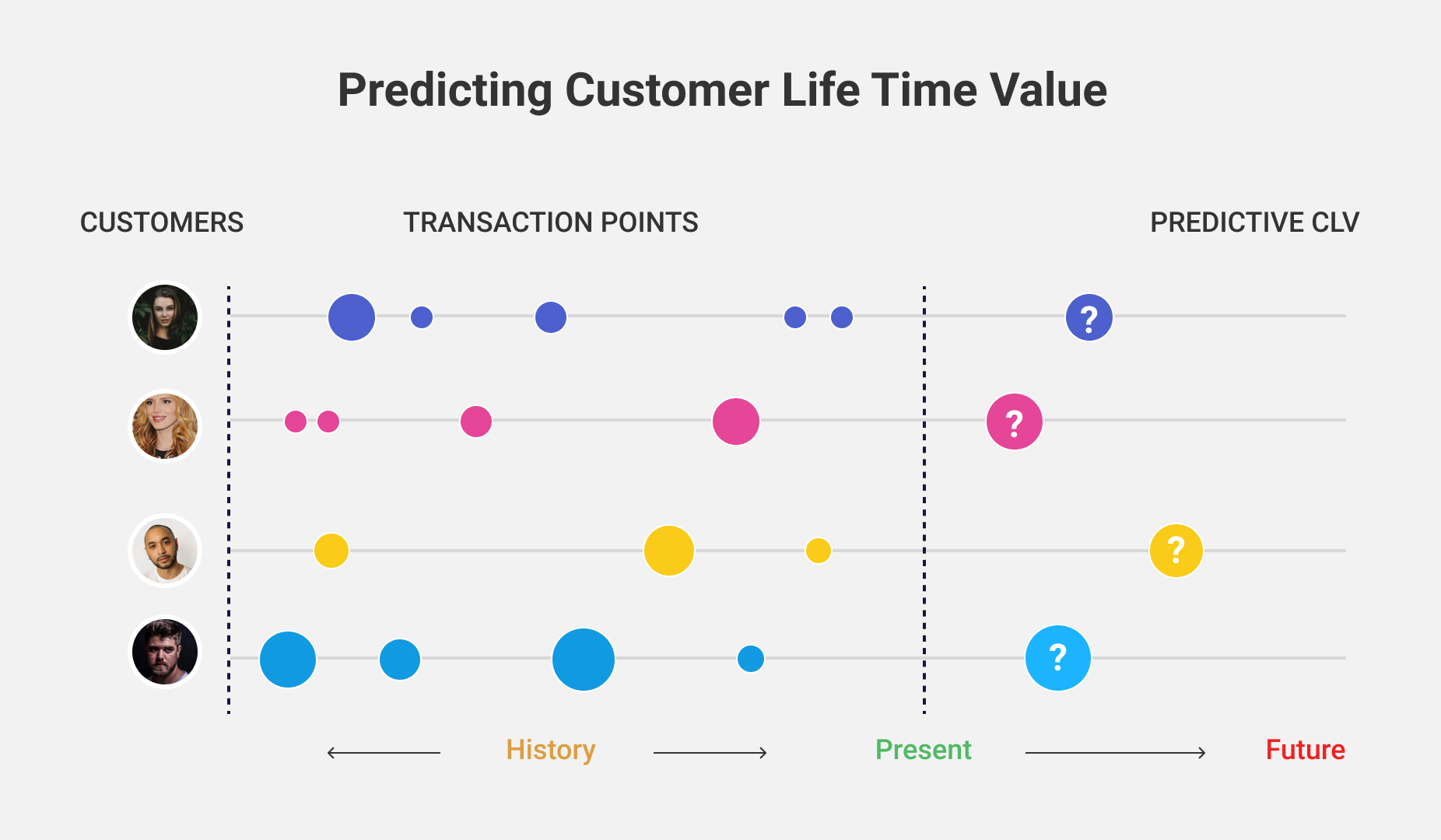 Predictive analytics helps:
● Know which customers should be the focus of new customer engagement efforts.
● Identify the previous factors that enhanced returns on customer engagements in the past.
● Use that knowledge to understand why customers responded to certain messages and promotions.
6. Feedback management
Feedback management is really important. Predictive analytics allows banks and financial firms to keep up their relationship with customers by giving them the right services and products for their needs and matching individual preferences in the most sorted way.
To gain a competitive advantage, banks must acknowledge the crucial importance of data science, integrate it into their decision-making process, and develop strategies based on the actionable insights from their client's data.
If you need any help with idea validation, proof-of-concept, Data Science consulting, large-scale AI implementation, Big Data Engineering, or a creative solution for your Banking domain application. You are at the right place.
Talk to our experts