Predictive analytics has been a buzz since the industries started exploring Big Data tools for extracting valuable insights. Data analytics has become the ultimate game-changer for a business. Businesses use descriptive and diagnostic-analytical methods to find the reason behind the happenings in a business. And predictive analytics for forecasting future outcomes based on historical data to drive measurable and actionable consumer data insights. With the increase and availability of humongous volumes of customer and industrial data, data scientists started preferring prescriptive analytics to reach their goals using predictive analytics.
Predictive analytics:
Predictive analytics differs from traditional analytic approaches. It helps the organization in forecasting the productive outcomes from existing datasets by using sophisticated algorithms to predict the trends with an acceptable level of relatable scenarios and risk assessments. Organizations using predictive analytics can detect the future behavior patterns of individual customers at defined customer touchpoints in the customer life cycle: It helps in identifying future problems and opportunities for a business. The business can make the right decisions in unexpected situations through proactive planning from actionable insights. 
Prescriptive analytics:
Prescriptive analytics has its unique value for a business. Other data analytics helps in informing -how an action takes place (descriptive), the reasons behind the occurrence of a particular event (diagnostic), and what kind of events might take place in the future (predictive). Prescriptive analytics help in providing a detailed pathway or series of actions that should be taken to achieve a defined goal. Prescriptive analytics provides an integrated solution to insights derived using other forms of analytics. For instance, if a business predicted unusual behavior patterns in knowing, why consumers leaving a store site, prescriptive analytics helps in identifying the key pain points and performs an in-depth analysis on how to tackle the situation, to reach the ultimate goal-customer retention.
The usage of Predictive and prescriptive analytics in business had phenomenal results in the last few years. The accuracy of the insights provided depends on the availability of particular industry consumer data.  Large volumes of data are generated after a digital disruption.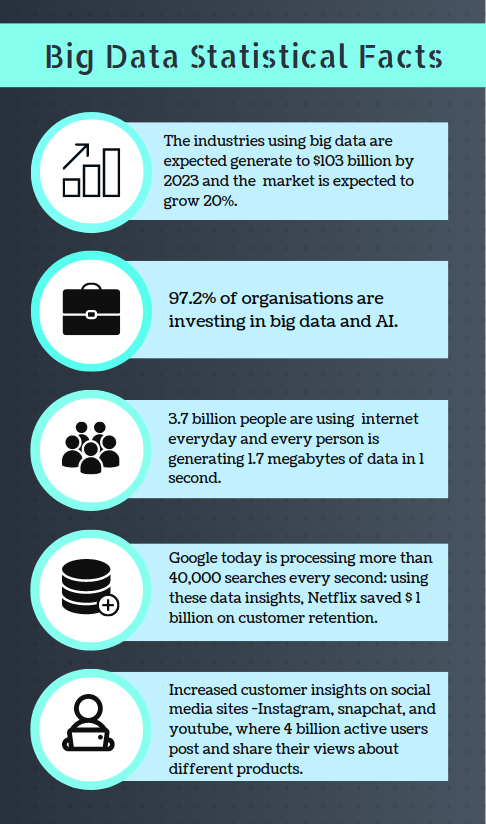 The above chart describes big data statistical facts and their significance in driving more accurate results.
Predictive Analytics- Netflix case study:
Predictive analytics is used by 56% of the global companies' various aspects; however, customer retention and customer acquisition are prominent. Acquiring new customers through personalized ads and analyzing customer performance at various touchpoints in different situations to retain them are important practices of predictive analytics. 
With a turnover of $167 billion, the leading entertainment content provider, Netflix surpassed Walt Disney in yearly validation of online revenue generation. The business strategy behind retaining 93% of its consumers and creating content that retains the active subscribers was using advanced predictive analytics. From individual customer content optimization to predict what its customers want to see at what time, how long a customer would watch a show based on his or her previous behavioral patterns, etc are the insights-driven using big data tools.
By collecting data from 151 million subscribers and extracting insights to observe customer behavior and buying patterns, Nextflix has developed the longest algorithm that can detect accurate real-time customer insights using predictive analytics, so that personalized movies and tv show recommendations can be provided to every individual. Beyond the stunning script and advanced cinematography, Netflix used predictive and descriptive-analytical tools to observe customer behaviors and promote selected content to targeted groups (who are likely to watch that particular content).
Before releasing one of the high-rated shows on Netflix's House of Cards, Netflix took ten promo cuts off the show. And segmented the promos based on their target groups. For instance, if an individual is more likely to watch women's empowerment, Netflix displays a particular promo that speaks about women's empowerment to that individual. It created a personal touch with the customers and increased the chance of customer conversion and mastered how to retain existing customers.
Prescriptive Analytics – InterContinental Hotel Group case study:
With prescriptive analytics, the InterContinental Hotel Group (IHG) has become a truly data-driven company by using valuable insights for better business operations. The analysis of real-time data helped in reaching predetermined marketing goals through the market mix-and-match strategy. And the use of prescriptive analytics in IHG operations can provide insights to the operational-level and higher-level management to make quality decisions.
The data analytics helped IHG to discover factors that are affecting business from outside. Observing the change in customer behavior at various stages of the customer journey helped in optimizing the overall hotel group performance. Adding additional services to increase customer touchpoints and customer interactions throughout the customer journey cycle has driven growth and revenue.
Predictive analytics and prescriptive analytics are at the initial stages, as most companies are using them in the daily course of action. Multinational companies are using them in production planning, inventory scheduling, and product marketing-related activities. The right implementation usage of these analytical tools can have a large impact on how businesses make decisions on the bottom line. By providing more accurate, reliable, and real-time insights in a cost-efficient way; predictive and prescriptive analytics are helping industries in optimizing the customer experience and adding advantages over competitors. 
If you need any help with idea validation, proof-of-concept, Data Science consulting, large-scale AI implementation, Big Data Engineering, or a creative solution for your business. You are at the right place.
Talk to our experts