The term Big Data refers to the large volumes of internal and external data that can be collected, stored, and analyzed to improve organizational operations. Big data offers a gold mine of potential benefits to companies leveraging this technology. Not only does Big data benefit organizations in extracting insights but also it helps in building a data-driven decision model.
Benefits of Big Data in Scaling Operations
The ability to access Big Data benefits organizations in many ways :
–Much of the unstructured data comes from external sources like social media and search engines.

Big Data provides highly actionable insights to organizations. With more external information and big data leveraged, organizations will be able to make intelligent decisions and chalk out rewarding business strategies.


 

–Big Data Analytics tools can predict accurate future outcomes thereby enabling organizations to optimize their operations and make better decisions.

 

–Customer service can be improved by leveraging Big Data and Natural Language Processing to read, understand, and evaluate customer responses.
–It allows us to learn and understand customer behavior and provide highly personalized products and services for them.
Big Data Applications Across Multi-Industries
With more data coming from every sector, it becomes crucial for industries to adopt Big Data into their operations and gain benefits from the insights obtained. Here are the industries that are adopting this technology into their business activities :
BFSI – Fraud detection and prevention along with Risk assessment and modeling are the areas where the BFSI sector depends heavily on Big Data Analytics.

Healthcare – The healthcare sector is able to provide personalized healthcare services to patients. Big Data along with AI helps change lives for the better by providing fitness wearables, remote monitoring, and telemedicine.
Manufacturing – Big Data helps in predicting uncertainties and incompetencies that can affect business operations drastically. The manufacturing industry is improving its supply strategies and product quality.
Oil & Gas – The Oil & Gas Industry relies on new technologies like Big Data as the industry generates large amounts of structured and unstructured data. Big Data is utilized to address the challenges in upstream, midstream, and downstream processes.
Information Technology – Big Data along with Artificial Intelligence and Machine Learning is empowering the information technology sector by providing innovative solutions to complex problems. It optimizes functioning, improves employee productivity, and minimizes the risks in business operations.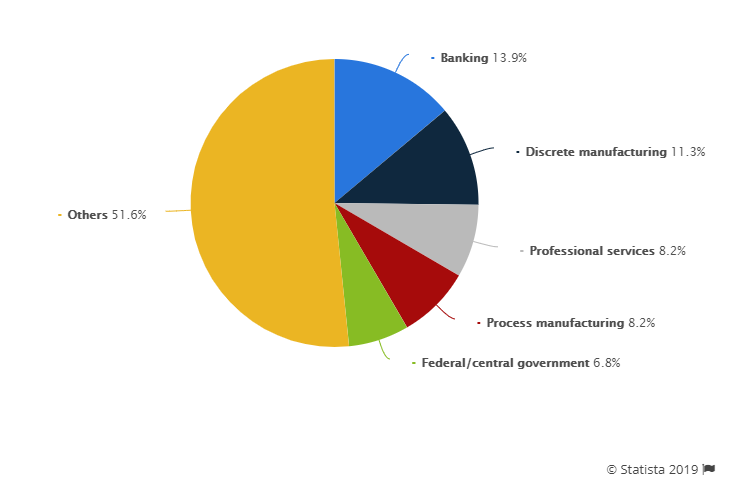 As per Statista, the Big Data global market is forecasted to grow to 189.1 billion U.S. dollars in revenue in 2019.
Big Data Use Cases
Segmentation and prediction – Many businesses are using the algorithm-based approach of classifying the data into segments and predicting future outcomes. For example, devices like fitness wearables will collect data on calories, sleep patterns, fitness activity, etc. With these inputs, medical professionals will be able to predict health problems. Segmentation of customers in the banking and retail sectors, for example, provides the companies with better insights to develop marketing strategies and target specific segments.

Recommendation systems – When properly implemented, recommendation systems can generate significant business. Companies like Netflix and Amazon are relying on Big Data to generate recommendations for their customers and are reaping more business through their recommendation systems.

Sentiment analysis – Big data enables us to obtain data from sources like social media, chat, feedback forms, etc, and gather insights to do sentiment analysis. Sentiment analysis helps in improving the interaction experience, maximizing the value delivered, reducing customer churn, and handling issues proactively.

Product development – Companies use data and analytics from focus groups, social media, etc, and launch new products. They build predictive models for new products and services.
Innovation – Big Data enables us to understand the interdependencies between humans, organizations, and entities. It then processes to provide valuable insights and determines innovative ways to use those insights.
Big Data provides tangible business profits to organizations. It enhances decision-making and process automation with its insights. Refined data from the insights can help not just businesses but it can also foster social good and empower societies.
If you need any help with idea validation, proof-of-concept, Data Science consulting, large-scale AI implementation, Big Data Engineering, or a creative solution for your  Data. You are at the right place.
Talk to our experts