Robotic process automation is a software automation technology that anyone can use for automating business processes. Unlike other technologies, RPA provides a massive advantage for organizations to close the gaps of missing system interfaces without the headache of switching systems and processes. Moreover, RPA can work on existing systems that are already in place with minor upgrades. 
A quick overview of what RPA can offer to scale businesses outcome:
Automate the challenges associated with customer services to provide unforgettable customer experiences.

All manual and rule-based back-office processes and functions can be automated to improve productivity.

Businesses can experience cost savings, improve the quality of work produced, mitigate the time associated with repetitive tasks, reduce errors, increase compliance, and improve process efficiency, and effectiveness.

Provides transparency to process flow and allows informed decision-making in the business process management environment.
With continuous research and development, it is clear that in upcoming years the RPA implementation will continue to support and work with all other cognitive peripheries. As the growth continues, businesses need to understand and initiate an RPA adoption roadmap for transforming the current business processes to sustain future trends and competition.
Article Summary:
What is Robotic Process Automation? 
Robotic Process Automation (RPA) is the development and deployment of software robots or bots to automate the repetitive, manual, or rule-based operations performed by humans within workflow or process-related applications. It describes both the software and hardware which is used to robotize the process and the strategic approach to effectively design and apply the RPA script for effective productivity. In simple terms, it is automated processes that enable us to replicate how people conduct repetitive tasks in an application. The types of business processes in which RPA can be used:
Process list and file storage

Repetitive tasks carried out 50-60 times a day

Mass email generation, archiving, and extracting

Periodic reporting, data entry, and data analysis

Conversion of data formats

ERP and other back-office transactions
Why RPA is Important?
A key advantage of robotic process automation is that, unlike traditional IT transformations, it doesn't require a massive upfront investment or a significant change within the current IT infrastructure. It can be implemented quickly and with ease compared to previous digital transformations. RPA is undoubtedly the next wave in the digital transformation for upgrading rule-based or manual systems like ERP, CRMs, and claim applications.
Why should we rethink process automation?
The greater a process is repeated, the more likely it should be automated, to improve time and efficiency and reduce costs.

When the volume of transactions and interactions exceeds human capacity, the processes should be automated to reduce human errors and improve employee and customer satisfaction.

High-time-to-market deliverables should be automated to keep pace with market trends and win a competitive advantage.

Business processes or applications that include complexity beyond human comprehension should be optimized with automation.

Processes that live in jeopardy and require around-the-clock monitoring can be automated.
RPA Benefits, Use Cases, and Usage
There are several benefits to leveraging RPA, including data management, onboarding/offboarding, applicant sourcing, etc. and these benefits vary from one industry to other based on the usage and use case applied. The vital benefits of RPA remain primarily to help organizations to reduce overall expenditure costs, speed of work delivery, cost of implementation, reduced hours spent on mundane tasks, etc. 
Robotic Process Automation integration can help with the automation of –
Processes that require access to multiple systems

Processes prone to human error

Processes that can be broken down into ambiguous rules

Process once started, needed limited human interventions

Processes executed frequently, in large numbers, or with significant peaks in workload

The process has no strategic fit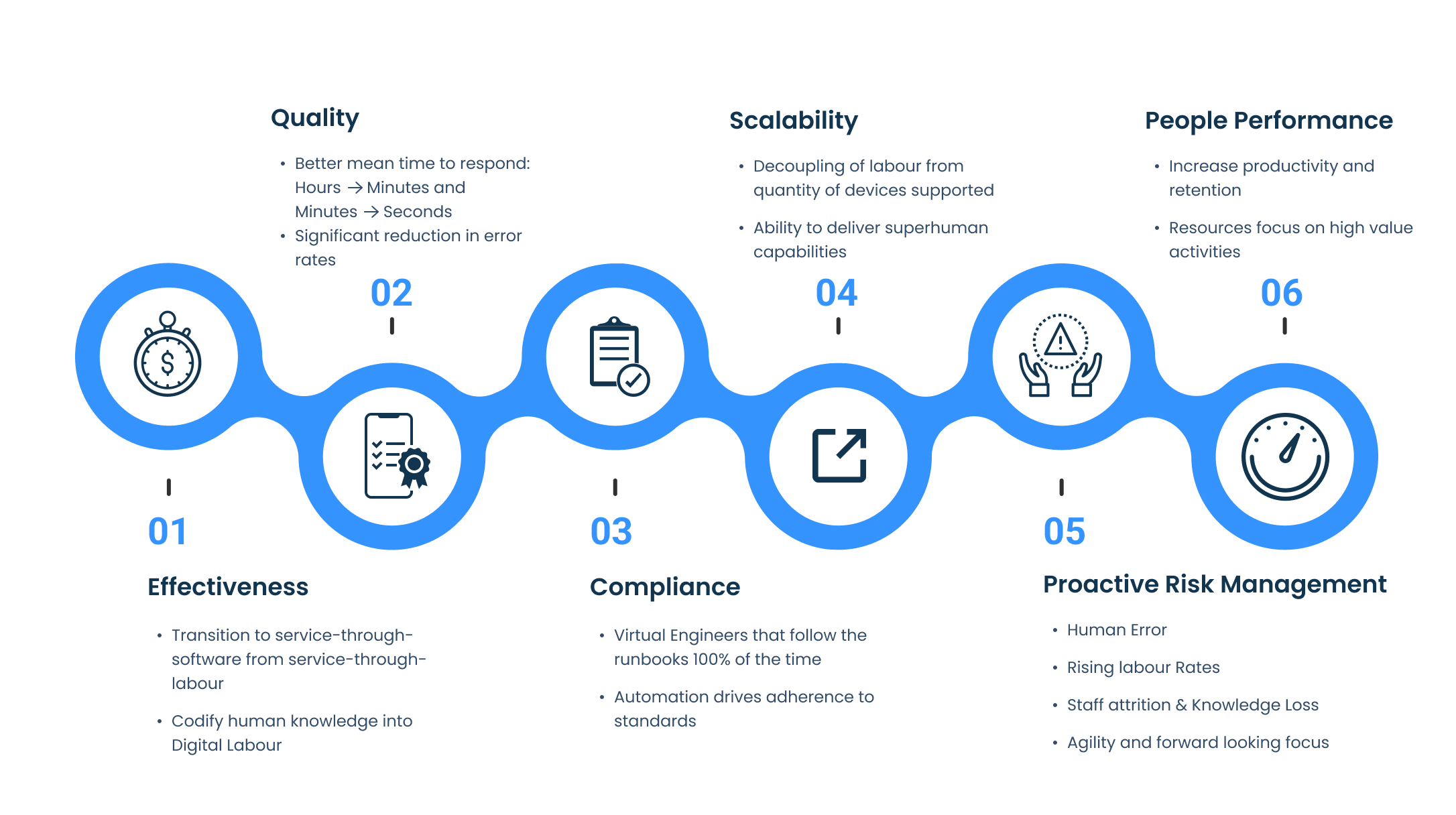 What can RPA do for you?
For both businesses who have already implemented RPA as well as for those who have not, understanding the potential of robotic process automation capabilities, and their significance for your business is important. In particular, what percentage of their following operations can be automated at what scale? 
Here we have discussed a few successful applications that are consistent across many industries:
Automation potential in finance, accounting, and banking-related operations accounts for 75%. Operations from accounts receivable, accounts payable, external reporting, fixed assets accounting, general ledger accounting, inter-company communications, regulatory reporting, etc. For insurance and financial services – claim processing, prioritizing and assigning claims, user administration, and new application monitoring can be automated with RPA to improve customer experience and reduce costs.
Human Resource Management
Most businesses believe that HR processes cannot be automated to be as significant as financial services, as they require more human intervention. However, tasks associated with data management, compensations & benefits, HR reporting, operational management, and payroll management can be automated by RPA. in particular cost center reallocation of staff and departments, application for leave and workforce planning, salary garnishment, assessments, etc., can be automated to scale HR executives work efficiency.
Customer Service

Processes from data entry to data management, customer data analysis to customer interaction services can be automated with the help of robotic process automation. Automation of customer support processes that reduces human involvement in solving customer inquiries, self-service resources, proactive messaging, and simulated chat conversations, reduces the employee time associated with routine, repetitive, and operational tasks, and helps in focusing more time on operations that require human intelligence for making informed decisions.

Procurement & Warehousing

Many businesses in the supply chain, manufacturing, and distribution are considering warehouse modernization or digital warehousing for capitalizing on their gains from process automation. RPA for procurement and warehousing helps with faster operations, end-to-end automated packaging, the safety of workers, more sustainable order processing and payment systems, smart inventory management, and improved product consistency. RPA provides an opportunity to scale on demand and increase business agility without the need to change underlying processes or business applications.

We are in the age of technology where everything a customer needs is at his fingertips. In recent years, we have seen tremendous growth within sales and delivery process automation. From marketing automation to CRM automation, RPA can be leveraged in various ways. RPA bots can automate all routine processes related to working with emails, spreadsheets, and any SaaS products to deliver the best service to your customers. From data management, reporting, contract and document management, follow-ups, bid sites, REP monitoring, and competitor price monitoring, RPA can take the burden of tedious tasks and improve productivity at all points of your customer interactions.

Production planning, scheduling, and risk analysis by robotic process automation can increase the total average production time by addressing challenges associated with product development operations. RPA forecasts potential risks through the use of time and cost-oriented failure models to plan and schedule the production process. This allows manufacturers to make real-time decisions based on hybrid analytical solutions and applied to robotic process automation to scale the production outcomes.

How to optimize your processes with RPA?

When it comes to implementing RPA, the road to automation acts more as a process optimization enabler than as a trigger to standardize processes. Companies across all industries around the globe can introduce RPA in their back-office functions to discover, automate, and govern the technology integration process. While it is clear that RPA is going to transform most of the processes that businesses own today, the next question becomes, how can companies drive successful RPA transformation ensuring sustainability?

Here are a few FAQs that help you better understand RPA:

Q. What are RPA bots?

RPA bots, or just 'bots', are software programs that you set up to do digital work. They're often called a Digital Workforce. RPA bots can interact with any system or application the same way you do. It's as simple as showing your bots what to do, then letting them do the work.

Q How does RPA work?

RPA systems are preconfigured software instances that use business logic and predefined activity characteristics on your software and systems to complete the autonomous execution of a combination of processes, activities, transactions, and tasks in the same way a human would.

Q. How exactly does RPA help your business?

As an automation software, RPA transforms the manual workforce into a digital workforce to save companies time and money while enhancing productivity by allowing employees to focus on mission-critical tasks.

Q. how RPA can help you take the next step in your business automation?

Robotic process automation (RPA) systems are a pre-programmed software technology that is built and deployed to make it easy for managing software architecture that emulates human actions interacting with digital systems and software. As businesses continue to automate their high-end operations with AI that requires machines to make knowledge-based decisions, RPA can act as task carriers to handle high-volume repeatable tasks to provide the required pieces of information to the software systems from time to time.

SoulPage Robotic Process Services can help with all the concerns about RPA implementation. SoulPage aims to deliver RPA consultation on organizational transition, value-added tools focused on implementation, assisted and managed RPA implementation service, building personalized RPA Center of Excellence, and more. SoulPage RPA+AI driven automation services can be implemented with ease by anyone, anywhere. To know more about our RPA service or more about other soulpage services, connect with us.