The insurance industry has always been data-driven, but with the rise of advanced technologies, the way insurers handle and process data is undergoing a significant transformation. Intelligent data processing (IDP) is revolutionizing the insurance industry by providing new insights into customer needs and behaviors, improving risk assessment, streamlining business operations, and more.
The amount of data generated by insurance companies has increased significantly. It has put pressure on traditional data processing methods, which are slow and often inaccurate. Insurance companies need to process this data quickly and accurately to stay ahead of the competition and provide their customers with the best possible service. That's where intelligent data processing comes in – using AI and machine learning algorithms, insurance companies can process data faster and more accurately, leading to improved customer service and business performance.
What is Intelligent Data Processing in the Insurance Industry?
Intelligent data processing applies advanced technologies such as machine learning, artificial intelligence, and big data analytics to process and analyze large amounts of data in the insurance industry.
Data processing is a complex process in the insurance industry. There is still a requirement for a high level of human intervention in traditional insurance data management and processing systems. The need for intelligent systems is growing. It is nonetheless possible to eliminate challenges associated with the insurance claim process through intelligent data processing systems, which provide a scalable and futuristic approach.
Every claim should be validated, tracked, and traced at light speed to maximize insurer profitability. The only way to achieve this is by building a sustainable system by integrating improved data processing systems. The image below distinguishes between a Regular Data Processing Process and an Intelligent Data Processing System for insurance claims.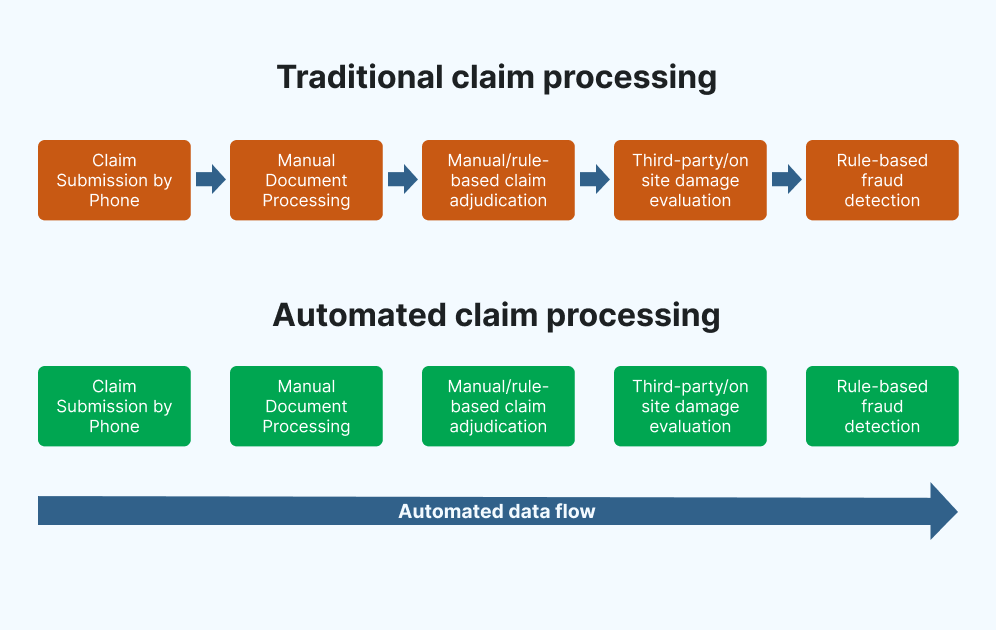 How Does Intelligent Data Processing Benefit the Insurance Industry?
The benefits of using intelligent data processing in the insurance industry are numerous. From improved customer service, increased efficiency and productivity, better risk assessment and management to cost reduction list goes on. Apart from benefits, insurers can also leverage IDP to address the challenges associated with digital transformation. IDP allows insurers to evolve and adapt to the changing needs of their customers, technology, and business environments.
1. Improved Customer Service
The use of intelligent data processing in the insurance industry has improved customer service. Insurers can now use data to understand their customers' needs, preferences, and behaviors, which allows them to provide more personalized experiences. By automating many routine tasks and improving the accuracy of the information, insurers were also able to resolve customer issues more quickly and efficiently.
2. Increased Efficiency and Productivity
Intelligent data processing has also led to increased efficiency and productivity in the insurance industry. By automating many manual processes and reducing the time and resources required to perform these tasks, insurers can improve their operational efficiency and focus on more strategic initiatives. Additionally, the ability to quickly access and analyze large amounts of data has allowed insurers to make more informed decisions and improve their overall productivity.
3. Better Risk Assessment and Management
One of the key benefits of intelligent data processing in the insurance industry is its ability to improve risk assessment and management. Insurers can use data to understand the risks posed by different customers and products to make more informed decisions about pricing and underwriting. By incorporating real-time data and advanced analytics, insurers can quickly identify and respond to emerging risks, which helps them to minimize potential losses and maintain profitability.
4. Cost Reduction
Intelligent data processing can also lead to cost reductions in the insurance industry. With the automation of many manual processes, reducing the time and resources required to perform these tasks, and improving operational efficiency, insurers can lower their overall operating costs. Additionally, the ability to quickly access and analyze large amounts of data can help insurers to identify areas where they can improve their processes and reduce their costs even further.
What future does Intelligent Data Processing have for the Insurance industry?
The future of data processing in insurance is no different and promises to bring many advancements, automation, big data analytics, and improved customer experiences. 
Technology plays a primary role in shaping the future of the insurance industry. With the advances in existing and emerging technology, the tomorrow of data processing in insurance promises to be even more impactful. With AI and ML in place, insurance companies can process vast amounts of data in real-time, making it possible to identify patterns and trends to make more informed decisions. 
In recent times we have seen a growing demand for Blockchain technology. IDP-integrated blockchain has the potential to revolutionize the insurance industry by offering a secure and transparent way of storing and sharing data. It will help reduce the risk of fraud and ensure that the data is accurate and up-to-date. In Addition, IoT devices will play a key role in data collection, assessing risks, and providing personalized insurance products to their customers.
The growing amount of data is a concern. However, insurers can leverage big data analytics to make sense of this data and use it to their advantage. From customer segmentation to risk assessment, Big Data Analytics will help insurance companies to assess and personalize insurance products for improved customer experience.
Automated claim processing will become one of the prominent use cases of intelligent data processing that will improve customer satisfaction and pave the road toward developing a sustainable future for insurance businesses.
We explored the importance, benefits, and future offerings of intelligent data processing for the insurance industry. We all know data is the key to the future for every industry. With intelligent and automated data processing systems in place, an industry like insurance can benefit like never before. From optimized operations to improved customer experience, IDP offers everything. 
SoulPage AI-driven data insight and service company delivers solutions across Banking, Finance, and Insurance. We offer end-to-end AI assistance in data engineering, customer management, and product compliance. To know more about our services or for free IDP consultation, contact us.